If you ask most Compensation Analysts how they got into their role, most would tell you that they somehow fell into the role. Very few (if any) Compensation Professionals planned for a career analyzing pay, developing salary structures, developing bonus programs, and managing merit cycles.
However, the Compensation Analyst plays a critical role in the landscape of the organizational structure and has steadily gained prominence due to its pivotal contribution to maintaining employee satisfaction and organizational health.
In the past several years, Compensation has been in the limelight as organizations have struggled to understand how to best manage their most expensive asset (people) through record-setting turnover, significant inflation, a proliferation of remote work, and the pressures of anticipated economic headwinds.
The role of the Compensation professional as a strategic business partner has been demonstrated time and time again, and this article aims to offer a comprehensive understanding of this profession, providing valuable insights for those considering it as a career option or simply seeking to understand the role better.
What is a Compensation Analyst?
At its core, a Compensation Analyst is a professional who supports the business to recruit, retain and engage employees through various compensation plans such as base salaries or wages, short-term incentive plans, and long-term incentive plans.
Successful Compensation Analysts will have strong analytical and interpersonal skills, allowing them to analyze market data, model incentive plans and collaborate with business partners and senior leadership to develop and implement compensation plans.
Interestingly, these professionals tend to emerge from a diverse range of backgrounds such as finance, consulting, human resources, and other analytics fields. Finance professionals, with their strong grasp of numbers, bring a strong financial acumen to compensation that can be instrumental in developing employee models and incentive plans. Those from HR or consulting backgrounds bring their nuanced understanding of personnel management and strategic planning.
As the HR industry continues to recognize the value of business intelligence and data analytics, these professionals, similar to finance professionals, will excel in supporting the business with data-driven decision-making.
Job Responsibilities of a Compensation Analyst
Compensation Analysts are entrusted with multiple responsibilities, all aimed at ensuring employees are compensated fairly and competitively. Let's delve into these tasks:
Reviewing market data: They analyze data from various salary survey sources to ensure an organization's compensation is competitive in the relevant market. This crucial task involves sifting through mountains of data, spotting trends, and applying those insights to the organization's compensation strategy. This accounts for a large portion of the Compensation Analysts' role, but software like CompTool can streamline these types of tasks.
Collaborating with business stakeholders: Compensation Analysts play a role in hiring decisions, providing insights that enable the recruitment team to offer attractive compensation packages to prospective employees. Compensation analysts also support hiring managers to ensure that current employees are paid competitively to market, and fairly to their peers. They may also be consulted on promotional opportunities for both employee readiness and pay.
Supporting job hierarchies: The Compensation Analyst may also play an instrumental approach in defining the various job levels and roles across the organization, delineating their responsibilities, and positioning them within a hierarchical structure. The Compensation Analyst tends to have this role due to their deep understanding of the organization's strategy and operational model.
Developing and managing bonus plans: Compensation Analysts design and administer bonus plans that align with the organization's performance goals and motivate and reward employees based on both individual and company performance.
Administering merit and focal cycles: The compensation professional's "busy season" is generally during the merit and focal cycle. During this period, the compensation analyst is responsible for supporting various stakeholders to review employees and determine pay increases that are in line with the Organization's pay-for-performance compensation philosophy.
Compensation Analyst Salary
As with any profession, the salary of a Compensation Analyst is determined by various factors, including experience, geographical location, and industry. Compensation Analysts may reasonably expect to see the pay ranges below:
Entry Level: $60,000 – $80,000 per year
Associate Level: $75,000 – $95,000 per year:
Senior Level: $95,000 – $120,000
Principal Level: $120,000 – $150,000
Expert Level: $145,000 – $185,000
Renowned Expert Level: $170,000 – $225,000
Interestingly, by the nature of the job, Compensation Analysts tend to have an advantage when it comes to negotiating their own salary, given their deep understanding of compensation and what the market will bare. There are strategies they can employ, like benchmarking against industry standards or demonstrating the value they bring to the organization.
Who Hires Compensation Analysts?
Oragnizations quickly recognize the need to ensure fair and competitive pay and Compensation Analysts find employment in a broad spectrum of industries, from tech startups to multinational corporations. One benefit of the compensation role is that it is applicable in all sectors and all locations. Although the role is industry agnostic, most smaller organizations do not have an in-house Compensation Analyst until the organization reaches a certain number of employees.
While the of Compensation Analysts within an Organization will vary greatly, much of the research we have seen suggests that Organizations with fewer than 500 employees may not have an internal Compensation Analyst. Paul Reiman has recently published an exciting study on compensation staffing after studying more than 400 organizations.
How to Become a Compensation Analyst?
As mentioned earlier, most Compensation Analysts today never planned on becoming one. To move into the Compensation profession, most candidates have a strong background in data analytics and interpersonal skills. Having well-tuned data analytical skills, such as MS Excel, Tableau, and SQL queries can dramatically improve your ability to move into the role. Being able to maintain a rational and disarming demeanor can dramatically improve your ability to handle highly emotive conversations around compensation.
While some Organizations may require a bachelor's degree in human resources, business, or a related field, many organizations accept relevant certifications, like the Certified Compensation Professional (CCP) from WorldatWork.
With time and experience, Compensation Analysts can progress to roles like Compensation Manager, Director of Compensation, and even Vice President of Compensation. The key to advancing in this field is staying updated with industry trends and continuously enhancing your skills. A typical career path for a Compensation Analyst is shown, below: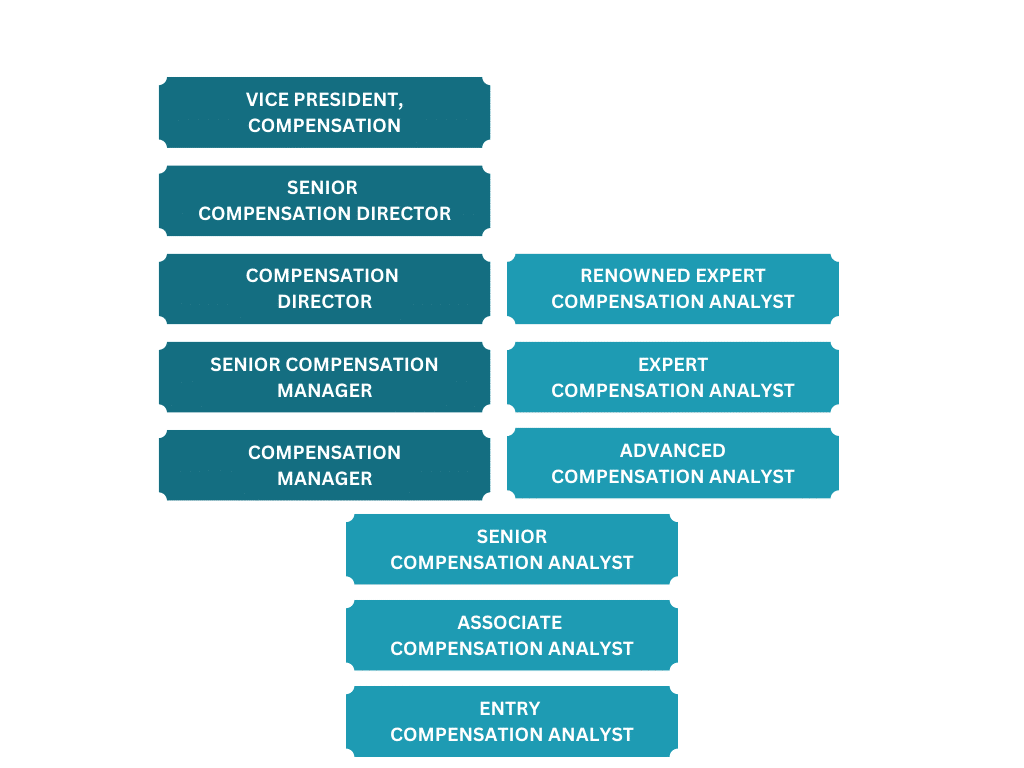 How to Be Promoted As a Compensation Analyst
Learn How to Manage Your Stakeholders
Understanding and managing stakeholders is crucial in the compensation field. Compensation is usually personal, and always important. With those points in mind, the tips, below, should be considered as you are developing in the Compensation field.
Understand the Business and Their Role: Familiarize yourself with the business's overall goals and how your role aligns with them.
Remain Empathetic: Truly understand the issues faced by stakeholders and approach them with empathy.
Ask Open-Ended Questions: Engage stakeholders with open-ended questions to uncover the root cause of their problems.
Understand Causes, Not Just Outcomes: Delve into the underlying causes of issues rather than just addressing the outcomes.
Be Transparent with Market Data: Share relevant market data openly when appropriate.
Trust, but Verify: Build trust with stakeholders while also verifying the information provided.
Keep It Simple: Avoid overcomplicating issues and present information in an accessible manner.
Choose Your Battles Wisely: Know when to stand firm and when to be flexible.
Provide Multiple Options: Offer leaders more than one solution to empower them to make informed decisions.
Manage Your Data
Data management and analysis is one of the key skills required to be a successful Compensation Analyst.
Know Your Data: Understand the macro-level data, such as geographical differences, job level percentages, annual movement, etc.
Keep Dashboards Simple: If a stranger can't understand your dashboard in 10 seconds, simplify it.
Streamline Processes: Automate and identify trends to create scalable solutions.
Maintain Consistency: Be consistent in your approach to data analysis.
Find Alternative Data Sources: Utilize different data sources for better buy-in (e.g., Squirrel).
Master Excel: Excel is a vital tool for compensation analysts, so learn it thoroughly.
Learn Other Tools: Familiarize yourself with SQL queries, Tableau or PowerBI, and Access to enhance your data analysis capabilities.
Manage Your Professional Development
As with any professional-level job, dedication, focus, discipline, and curiosity are key to becoming successful.
Deliver Exceptional Work: Always strive to exceed expectations in your projects.
Be a Problem Solver: Position yourself as a business problem solver with expertise in compensation.
Pursue Professional Courses: Consider taking courses like CCP to enhance your skills.
Network with Professionals: Build connections with other professionals in the field.
Embrace Continuous Learning: Seek opportunities to learn from experts, such as the Pay Practitioners Panel, and stay open to new insights.
How Does CompTool Help Compensation Analysts?
CompTool was the only market pricing tool built by a Compensation Analyst to address the challenges they saw every day. Here are just a few ways that CompTool is a Compensation Analyst's best friend because we help with many of the steps, above. With CompTool, you can take advantage of our data management and reporting tools, automate your processes, and create consistent approaches. Here are some of the ways that CompTool helps you do your job better:
Multi-market-Matching Your Jobs
CompTool's unique multi-matching function allows your Compensation team to price entire job families, across all of your pay markets at once. This multi-match feature rapidly market prices jobs in multiple levels instantly, and in all of your pay markets and automatically applies your geographic differentials or preferred regional data cuts instantly. This feature is a must-have and will save your team hundreds of hours every year.
Automating Your Salary Survey Submissions
CompTool automates your salary survey submissions. Salary survey submissions are the bane of most compensation analysts' existence and usually fall on the most junior (or solo) team member to complete. This may mean that beyond the initial submission, the survey companies have multiple follow-up questions to confirm the data, taking more of your time.
Refreshing Your Market Matches with New Salary Surveys
CompTool will automatically refresh all of your jobs with the newest market data as you receive your new salary surveys. If you are using evergreen surveys like Culpepper, or surveys that are refreshed quarterly, CompTool will ensure that your market matches are always the most current.
Stop Building reports in Excel
CompTool has a custom reporting tool as well as more than 60 Tableau reports that were developed by Compensation Analysts to answer the most common questions asked by company leaders.
Build and Test Salary Structures
Many clients have told us that building salary structures takes weeks to complete. World at Work has published articles on developing salary structures written by CompTool's founder, Justin Hampton, so you can be sure that the tool was conceptualized and built by an authority in the space. Now, instead of taking weeks to build and test structures, you can create various iterations and test costs and impacts to jobs with the new structures instantly.
Conclusion
In conclusion, the Compensation Analyst plays a strategically critical role in any organization. Employees' pay is typically the most costly expense of any business. By ensuring fair and competitive compensation, they contribute to employee satisfaction, retention, and overall organizational health. In the evolving employment market, the demand for these professionals is likely to grow, making it a promising career path for those with a knack for numbers and a passion for people management.
Call to Action
If the role of a Compensation Analyst appeals to you, consider exploring it further. Numerous resources are available online, including certification courses are available through organizations like SHRM, WorldatWork, and the Compensation Analyst Academy. As you delve deeper, you may find that this is the perfect blend of analytics, finance, and human resources that you've been looking for.