At [YOUR COMPANY NAME], we believe that pay is personal and that everyone should understand how their compensation is determined. [YOUR COMPANY NAME] aims to provide you with a clear understanding of our compensation philosophy and how we determine pay within the established pay ranges. Should you have any questions or require further clarification, please do not hesitate to contact your manager or your Human Resources Business Partner.
Our Compensation Philosophy
Our compensation philosophy is grounded in the following principles:
Market Competitiveness: We strive to offer competitive pay by benchmarking our salary ranges against industry standards and adjusting them regularly to reflect market trends.
Internal Equity: We ensure fair compensation within our organization by considering the skills, experience, and responsibilities of each employee
Performance-Based Rewards: We believe in recognizing and rewarding exceptional performance, which is why a portion of your compensation may be tied to your individual performance and contributions to the organization.
Determining Pay within the Pay Range
Our pay ranges are designed to be reflective of the competitive labor market while allowing us to pay employees both fairly and competitively. The salary range consists of a minimum, a midpoint, and a maximum.
Minimum: represents the lowest that an employee in the role will earn.
Midpoint: the midpoint is the middle of each pay band. At [YOUR COMPANY NAME], our midpoints are closely aligned with the market median based on our collection of salary surveys.
Maximum: is the highest rate of pay that an employee in the role may expect to earn.
All [YOUR COMPANY NAME] employees are paid between the minimum and maximum of the range, but their exact pay will vary based on their unique combination of experience, skills, and performance. The image below describes where employees' pay may be reasonably expected to fall within their pay range, based on their performance and proficiency in their role.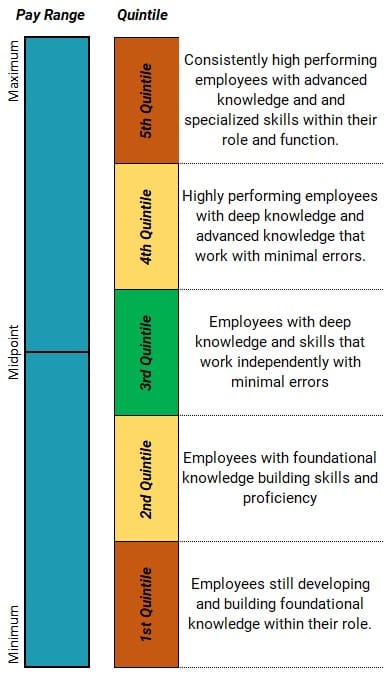 As outlined in the image on the left, each employee's pay should be reflective of their performance and proficiency in the role.
Employees that are still developing in the role may be paid between the minimum and midpoint of the range.
Employees that are proficient and whose work is completed independently and without error are typically paid close to the midpoint of the range.
Employees that are consistently high performing, that work with significant independence and without error will find that their pay is between the midpoint and maximum of the range.
The image on the left is intended to be representative of the pay practices that we strive for at [YOUR COMPANY NAME]. Every employee's pay is personal and unique to themselves and may not be perfectly aligned to your own individual pay.
At [YOUR COMPANY NAME] we encourage open dialogue and welcome any questions or concerns you may have about our compensation and how they impact you. If you have questions about your pay and where you fall within the range, you should reach out to your Manager.