What is Competitive Pay
In today's labor market, understanding the concept of "competitive pay" is crucial for both employers and employees. For employers, competitive pay is a salary or wage that aligns with the current market rate for a specific position within a particular industry and location and is commensurate with an employee's skills, responsibilities, and expertise. For employees, competitive pay usually means how much competing companies are willing to pay for their talent and skills. The intersection of these two definitions is an important one in the employee and employer contract.
---
---
What Should Be Considered When We Think of Competitive Pay?
Competitive pay is not just about the base salary. Most companies will provide additional perks and benefits and compensation to employees. The employee should also consider:
Benefits and Perks: Health insurance, retirement plans, car allowances, phone stipends, etc. should all be considered as part of the total compensation package
Bonuses and Incentives: Depending on the role, a large percentage of an employee's pay may be based on bonuses. Understanding the value of these bonuses and the likelihood of meeting targets is key.
Long-Term Incentives: Equity grants may vary by industry or location, but they are an important consideration. If the role provides a meaningful LTI grant and the company's financials are performing well, equity grants, over the long term, may provide a significant upside.
Growth Opportunities: While not directly part of pay, career growth and promotions offer the largest opportunity for building larger salaries. Considering the potential for career advancement is a key part of determining long-term competitive pay.
What Does the Employee Need to Know About Competitive Pay?
Understanding competitive pay is vital for both job seekers and employers. What employees consider competitive may differ from what employers believe to be competitive. Often, these differences can be found to be related to a misunderstanding of the compensation philosophy, bad data, and misinterpretation of job levels. Understanding the Organization's compensation philosophy and how they manage competitive compensation and career growth can be instrumental in ensuring pay that is both fair and competitive.
How Do Employees Negotiate for Competitive Pay?
As a compensation consultant, many personal friends have reached out to me with job offers asking if they are competitive. While a competitive and fair rate is important, pay is a personal decision, and negotiating for competitive pay requires preparation and strategy.
Understand the market rate for the position.
As an employee or candidate, you should conduct your own independent research to understand what the job is worth, however, it is important to understand that most employers will have their own understanding of the market. Most employers purchase highly reliable and accurate third-party salary surveys that are composed of similar companies. Many employers will disregard online survey data due to poor quality and lack of validation. Candidates that bring forth competing offers, or examples of job postings for comparable positions will have significantly greater leverage to negotiate a higher salary.
Emphasize How Your skills, experience, and contributions Align to the Job
If required by the role, the education and skills that candidates possess may be used as negotiation levers. However, skills and experience that are not relevant to the position should not be presented as part of the negotiation for additional pay.
Discuss What Competitive Pay Means to You
Candidates and employees should set their expectations and communicate them early on. In the new era of pay transparency, nearly half of job postings now include the pay range. Employees can use this information to decide if the ranges are competitive. They must consider, however, that most companies will not pay the top of the posted range to a new candidate. To earn the top of the posted range, the employee's or candidate's experience and skills must be well aligned to the business's needs and exceed the basic requirements of the role. Additionally, if there are internal equity considerations, the employee's or candidate's performance, experience or skills must exceed that of their peers within the same role.
How do Employers Ensure Competitive Pay?
When employees wish to ensure competitive pay, they might just log in to a job site and start applying for new roles. As any compensation analyst knows, For the employer, ensuring both competitive and fair compensation is an ongoing responsibility that requires both expertise and data.
Analysis of Competitive Pay Packages Using Salary Surveys
Although employees will oftentimes seek online sources to find what their job is worth, and what a competitive pay rate might be, employers must hold themselves to higher standards than a Google search, or using online, free tools. Compensation analysts are usually the people tasked with ensuring that the Organization maintains a competitive pay position. For most, this means using reputable salary surveys from companies such as Culpepper, Aon Radford, Mercer & Willis Towers Watson.
Understanding the Competition and Local Market
One of the downsides to traditional salaries is that they are subject to Safe Harbor Guidelines and Anti-Trust laws. These laws require that the surveys be at least 90 days old and that they be anonymized. Restrictions such as these can create hurdles for the Compensation Analyst to obtain buy-in from the business and hinder the development of competitive pay packages. Using alternative forms of data, such as Squirrel, which has compiled more than 27 million job postings with employer-reported pay ranges can be beneficial in understanding the labor market.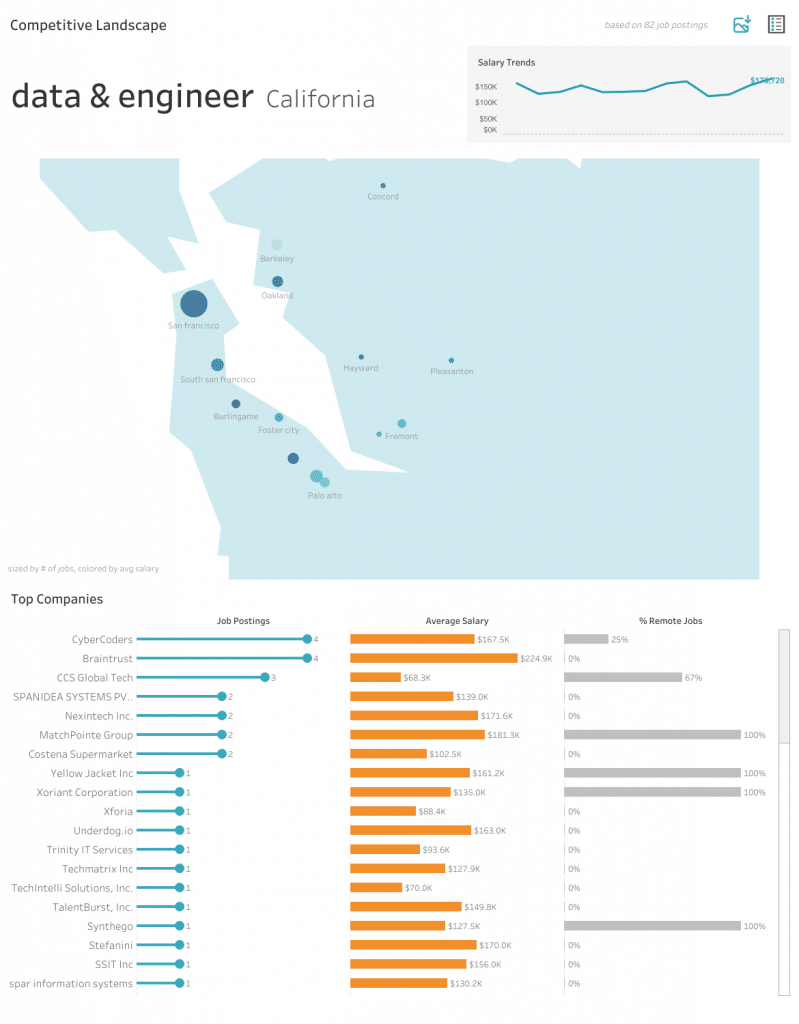 Since tools like Squirrel use publicly available data, compensation teams can see exactly what specific competitors are paying today, as seen in the image, above. Combining this data with your traditional market data provides the compensation team with a much more holistic view of the local labor market, with more timely and transparent data than traditional salary surveys.
Employee Feedback
To create a compelling employee value proposition with competitive compensation and perks that are appreciated, employers must understand what employees truly value.  Employers should make a habit of reviewing exit interviews and candidate feedback.  Employees also should also continue to survey employees to gauge the employees' perception of competitive pay.  Understanding the trends and desires of current, future, and past employees will give the Organization actionable insights in designing competitive pay packages.  
Collaborate with Compensation Professionals
Working with colleagues in other industries, locations, and Organizations remains a key way to stay abreast of trends and changes in the marketplace. Compensation analysts can take advantage of many online networking opportunities such as World at Work, LinkedIn, Pay Practitioners Panels, and SHRM. However, one must be cognizant of safe harbor guidelines and anti-trust rules when discussing pay with other compensation practitioners.
How Often Should Competitive Pay Be Evaluated?
Market analysis should be done on each job no less than annually. Although this may sound like a daunting task, many salary surveys provide updated market information at least quarterly. Salary surveys like Radford update quarterly and Culpepper updates monthly. Software programs like CompTool help ensure that the market matches stay updated with little additional effort required by the Compensation Team.
How CompTool Helps Organizations Achieve Competitive Pay
Competitive pay is one of the core functions of the compensation analyst's role. As we discussed above, the approach is multi-faceted and complex. Companies that
Benchmark Your Jobs: CompTool matches your internal jobs to your salary surveys, ensuring your pay rates are competitive
Automate Your Survey Updates: As your salary surveys update, whether it be monthly, quarterly, or annually, when the market changes, CompTool captures the changes and suggests updates to ensure competitive pay
27-million employer-reported salary ranges: CompTool comes with Squirrel, our innovative data tool that includes more employer-reported pay data than any other solution data solution designed for Comp
CompTool tracks changes in your salary surveys. CompTool's innovative salary survey library tracks salary movement across your surveys so you will always be able to see how much market data moved, ensuring your organization continues to create competitive pay packages.
More than 60 Reports: CompTool includes numerous reports designed by compensation analysts that can be used to assess your Organization's pay practices. CompTool's reporting section includes detailed analyses of data on competitive pay, pay equity, and D&I.
Design and Model Pay Structures: CompTool can help your organization quickly design and model new salary structures and determine total costs to the business.
As your organization's demands grow and the need for competitive pay is recognized, the features that tools like CompTool provide can significantly improve your ability to be proactive as a compensation manager.
Conclusion
In the ever-evolving landscape of the labor market, competitive pay remains a cornerstone for both employee satisfaction and organizational success. It is not merely a function of base salary but a comprehensive package that includes benefits, bonuses, long-term incentives, and growth opportunities. Employers and employees must engage in a continuous dialogue, backed by reliable data and market analysis, to ensure that compensation remains competitive. With the advent of sophisticated tools like CompTool, organizations can now automate and streamline much of this complex process, ensuring they stay ahead of market trends. By leveraging reliable salary surveys, understanding local market conditions, and incorporating employee feedback, companies can build compensation packages that not only attract top talent but also foster long-term commitment. In summary, competitive pay cannot be achieved with a one-time calculation but requires an ongoing strategy that includes the concerted efforts of both employers and employees.